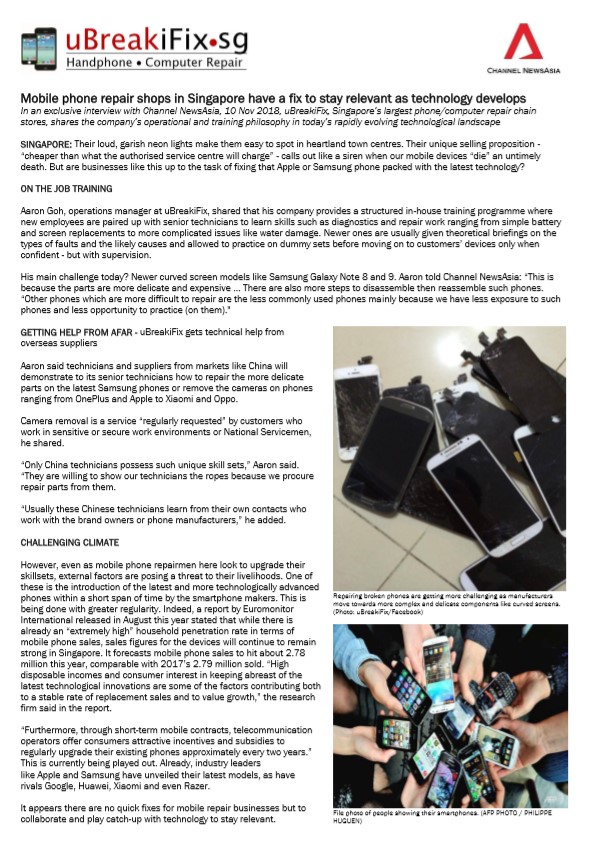 Prepare your phone before reselling it
17 Nov 18
Thinking to get the latest iphone XS Max or Samsung Note 9? Trade-in price too low with the telcos? New gadgets price tag too hefty? You can lessen the pain on your wallet by selling your current (old) phone(s) to third party used phones collectors. There are many such shops in both the neighborhoods as well as tech hub Sim Lim (though rather infamous these days after spats of customers bullying incidents recent years). Before you head off to these shops, have your phones well prepared in order to fetch the best prices:
Keep your info safe. Delete all your personal data – including photos, text messages, account information etc. Not doing so leaves you vulnerable to security issues that not only sour the deal but can also compromise your privacy.
Do your research online to check your phone's worth. Compare with similar phones, keeping in mind your phone's age and condition.
Bring the original packaging and any accessories which will increase your phone's value.
Do a physical cleaning of your phone and the accessories. Wipe off dirt and dust.
Ready to head to the stores? Do a quick price check here: www.repairphone.sg
Are The iPhone X, XS Max, or XR Waterproof ?
21 Sep 18
Unlike the Apple Watch Series 2 and higher models, the latest iPhone models are still not waterproof not unlike their predecessors, and you cannot swim or do other water sports with any one of them.
They are however somewhat water resistant.
With an IP rating of IP68/ IP67, Apple designed the latest iPhone XS/Max/XR to be waterproof in situations where it's submerged no deeper than 2 meters in water for no more than 30 minutes.
Check the specs for these iPhones  and you'll find this footnote:
"iPhone XS and iPhone XS Max are splash, water, and dust resistant and were tested under controlled laboratory conditions with a rating of IP68 under IEC standard 60529 (maximum depth of 2 meters up to 30 minutes). Splash, water, and dust resistance are not permanent conditions and resistance might decrease as a result of normal wear. Do not attempt to charge a wet iPhone; refer to the user guide for cleaning and drying instructions."
So, the next time you want to take your latest gadget to the beach, we recommend sealing it up in a waterproof pouch like this:
Alienwares invading SIngapore
28 Jan 18
Protect your phone battery
29 Oct 17
You've been charging your smartphone wrong! Leaving your phone plugged in after it reaches 100% could be damaging the battery. You should plug your phone in whenever you can and charge it in short bursts, which could help the battery perform optimally for longer. Don't let your phone overheat while charging. Keep it cool. Remove the case if it insulates heat while your phone charges.
***************
Faulty Samsung battery (again)
17 Oct 17
A man threw himself to the ground and ripped his shirt off as his mobile phone exploded and caught his clothes on fire. Terrifying CCTV recorded inside a hotel in Indonesia shows the victim, Mr Yulianto, slipping his phone into his shirt pocket. Seconds later the handset explodes. The clip is from the Hotel Ciputra in the city of Semarang in the Central Java.
***************
iPhone 8: glass back 'very difficult' to repair and costs more than screen to replace 
10 Oct 17
The iPhone 8 and 8 Plus have glass backs that, if smashed, cost more to replace than the screen.
The new plates, which bring glass to the back of Apple smartphones for the first time in four years, have been installed to enable wireless charging, but also introduce a new point of failure.
Apple says that its glass covering the screen and the back of the iPhone 8 is "the most durable glass ever in a smartphone", although the company has not divulged precisely how it comes to that determination and just how much more durable it is compared to Corning's Gorilla Glass 5, used on rival smartphones such as the Samsung Galaxy S8. How durable the glass actually is should become apparent when users inevitably begin dropping their £700-plus smartphones.
The metal reinforcement of the glass back panel represents part of Apple's durability efforts. Beneath the glass is a metal sheet that has a hole in its centre to make space for the wireless charging coil. That metal sheet is stuck to the glass panel by "lots" of glue, according to iFixit, which leads the repairers to conclude that while "the durability of the glass back remains to be seen … replacements are likely to be very difficult".
That means a third-party repair of the glass panel is either going to be very difficult or very expensive, even compared to the screen. Apple's own AppleCare+ for the iPhone 8, which costs £129, covers up to two damage repairs for two years. For the screen an excess of £25 is due, but repairs to the glass on the back of are only covered under the "other damage" part of the plan.
While smashing screens seems almost inevitable for a vast number of smartphone users, the metal backs of the previous generations of iPhones have taken that worry out of the equation. The iPhone 8, therefore, requires a protective case more than ever. But if that protection is too thick or has metal or other reinforcement within its back, it will prevent the wireless charging from working and nullify any benefit from having the glass there in the first place.
Source: Guardian
***************
Following recent malware attacks on British National Health Service, we offer some tips to keep your computer safe:
10 Sept 17
Update your Anti-Virus
Keep your anti-virus programs up to date. It may be good to upgrade to "paying" versions of the freeware on your machines to have better cover.
Update your Operating System
Upgrading from Windows 7, 8 or 8.1 to Windows 10, and is mostly free. Most computers bought with OS prior Windows 7 containing bugs yet to be fixed and can be compromised.
Install Anti-Ransomware
Following more ransomware attacks worldwide, there are now more softwares emerging to protect against malware/ransomware intrusions. While this is relatively new, it is worth to start exploring and comparing feasible anti-ransomware solutions.
Install Anti-Malware Software
We recommend Malwarebytes which lets you run and remove any malware that has gotten on to your computer.
Help's available!
Keep your computer safe. Keep it up to date. Do not open email attachments from suspicious sources. Back up your critical files over the cloud. In any case, help's just a call away: +65 83330143 (Aaron) or +65 90075641 (Steve)
***************
Electronic & Computer repair services
1 June 17
A recent study by IBISWorld's revealed that the Electronic and Computer Repair Services industry has declined during the recent five years. The increasing affordability of electronics and computers has prompted consumers and businesses to purchase new products rather than replace their existing equipment, and businesses and consumers typically have opted to purchase more advanced products and scrap damaged or outdated goods. In the five years to 2020, the computer repair industry will continue declining, albeit at a slower rate. New, technologically complex products will lead the way for increased computer repair demand. However, the industry will still suffer from declining trends, as electronics and computer products continue to decrease in price.
The largest industry segment is computer and office equipment repairs, generating an estimated 36.9% of total revenue. This category includes the repair and maintenance of computers and peripherals, photocopying machines, computer terminals, storage devices, printers and CD-ROM drives. Another service this segment performs is recycling inkjet cartridges, which is usually not a sufficient revenue-generating activity in itself. Most companies engage in this activity as an additional service to their computer repair and maintenance clients.
As a share of revenue, this segment has declined steadily in the past five years as a result of the trend to replace rather than repair computer and other electronic items (not including phones).
The study by IBISWorld's stands in stark contrast to researches on the phone repair industry which has seen significant growth everywhere around the world. This is the case as more consumers use smartphones these days and dropping their gadgets and calling on a phone repair store has become more habitual than out of the blue.
***************
Samsung to increase screen size of Galaxy S8 to attract former Note7 users?
2 Feb 17
Consumers who are looking forward to the Galaxy S8 smartphones can expect the screen sizes to increase significantly.
According to Korean news outlet The Bell, an analyst claimed that Samsung decided to equip the Galaxy S8 models with bigger screens so as to attract former Galaxy Note7 customers. The Galaxy S8 is said to come in 5.7-inch and 6.2-inch curved screen variants.
Despite the increase in screen size, the form factor of the phone is unlikely to be changed as Samsung is aiming for a bezel-less design with no physical home button.
This is in line with the numerous reports we've heard so far on the Galaxy S8; there might not be a flat-screen model and the fingerprint sensor could be embedded in the display to achieve a "full-screen" design. Testing has begun in January with full volume supplies starting in February and a possible launch in March 2017.
***************
Apple expected to launch three iphone models in 2017
5 Dec 16
Although Apple reportedly ditched plans for a third iPhone model this year, it is likely to release three models next year with different display types and camera modules.
It is rumoured that Apple will launch one 4.7-inch and two 5.5-inch iPhone models next year. Two models will continue to use TFT-LCD displays while the other one will sport an OLED display. The dual-camera module will remain exclusive to the 5.5-inch models. Apple's lineup for 2017 could look like this:
4.7-inch iPhone with TFT-LCD display and a single camera module
5.5-inch iPhone with TFT-LCD display and a dual-camera module
5.5-inch iPhone with OLED display and a dual-camera module
The 5.5-inch iPhone with the OLED display is likely to be positioned as the more premium option; it could also be equipped with a stainless steel frame while the other two models use an aluminum metal frame.
This isn't the first time we've heard of three iPhone models coming next year. Nikkei Asian Review reported last month that there would be a 4.7, 5.0 and 5.5-inch iPhone model with an all-glass design.  Other rumored specs of the 2017 iPhone include a bezel-free design, wireless charging, and no physical home button.
***************
How to check if your phone repaired screen is real?
12 Sept 16
Just had your broken phone screen repaired on the cheap? Recently had your computer repaired? But found something wrong with it afterward? Poor phone repair service? Fake or lousy grade phone screens/LCDs are commonplace but hard to detect, unless you strip them down to inspect the labels on the phone digitizers. Some quick checks can help though not foolproof:
– waterdrop test – if water stays on the phone repaired screen as a drop (bead), likely it's real
– brightness/resolution test – if fonts and color resolution of the phone repaired screen deteriorate after replacement, likely it's fake
– flashlight test – if shining a flashlight at the screen of the phone repaired shows a refracting rainbow pattern, likely it's real
***************
Computer Ransom ware on the rise
18 June 16
The latest spin on a ransom note isn't composed of letters clipped out of a newspaper. Increasingly, criminals are unleashing brash attacks on your PC and its data through a type of malicious software called ransomware.
It's exasperating enough when you need your computer repaired due to sluggish performance because of a virus, but what if the virus installs embarrassing pornography on your screen or encrypts your data so you can't read it? Ransomware attacks often use these tactics to demand you pay a ransom to remove the pornography or to access your files.
According to computer repair experts we speak with, there's more and more evidence that ransomware is going on.
The US FBI recently issued an alert about the broader category of rogueware, which include ransomware and fake antivirus scareware scams. According to the FBI, criminals are netting an estimated $150 million a year through these scams.
Ransomware works by duping you into clicking on an infected popup advertisement or after you visit an infected website. However, instead of just trying to trick you into buying fake antivirus software, the bad guys hold your computer hostage and attempt to extort payment.
In some instances, ads for pornographic websites appear on your screen each time you try to click on a Web page. The ads cover a portion of the page you're trying to view. One ransomware attack puts time pressure on the victim, stating that a piece of your data will be destroyed every 30 minutes if you don't pay up. Another attack attempts to force you to purchase a program to de-encrypt your data.
As with other attacks, you can work to avoid ransomware, according to computer repair experts:
Use reputable antivirus software and a firewall.
Back up your data often.
Enable your popup blocker.
Exercise caution. Don't click on links inside emails, and avoid suspicious websites.
***************
We've Spent Billions of dollars on iPhone Repairs Since 2007
28 Mar 16
It may always be a mystery exactly how someone manages to drop an iPhone into a toilet, but we won't have to wonder about the financial repercussions any longer. Studies have estimated that globally, consumers spend 1-2 billion dollars each year on iPhone repairs since the first iteration was released in 2007. A significant amount is also estimated to be spent on iPad repairs annually. While there is no study on the size of the iPhone repair Singapore market, shops here have seen a steady increase in demand of iPhone repair service in Singapore.
SquareTrade, an American-based company which provides independent warranties for tech gadgets in USA, surveyed more than 2,000 iPhone users in the US about how they'd abused their phones over the years, then extrapolated the cost of their iphone repairs and replacements.
The primary culprit of a damaged iPhone is the classic, clumsy drop from the user's hand. The second-most popular reason was "immersing the phone in liquid". Having the phone fall out of the user's lap, be knocked off a table or get drenched in a liquid spill were the next most common reasons for damage, respectively.
Apple provides a one-year limited warranty on the iPhone and iPad, which covers product malfunction but not user clumsiness. An entire industry has cropped up around the protection and restoration of many people's most treasured electronic device. Some iPhone users do not get their iphone repaired in and simply bear the shame of a cracked screen. According to SquareTrade, more than 10% of iPhone owners allow their screens to remain cracked, while 5-10% of users used tape to keep their phones together. That's hardly a surprise when getting an iPhone repaired usually costs between $100 and $400 (from iPhone 5 to iPhone 7). Getting your latest iPad repaired (that is, the Air Pro 9.7) will cost even more than this.
Part of the iPhone repair Singapore market is covered by insurers. A key player is Hong Leong Assurance which insures against a user's iPhone repair cost in Singapore.